Cape Cod Cruises & Cape Cod Whale Watching
If you're visiting Cape Cod between the months of April and October, one of the most thrilling ways to spend a few hours is on a Cape Cod whale watching trip. It is the quintessential Cape Cod day trip that millions of visitors have made since 1975 when the very first whale watching boats set out from Provincetown harbor.
Once upon a time, Cape Cod was the whaling capital of the world, and Provincetown was one of the busiest whaling ports in the United States. But after whaling was banned by the international community in 1972, the focus shifted to eco-tourism. Nowadays the "hunts" are carried out with cameras and binoculars, rather than harpoons.
There are a number of companies that offer Cape Cod whale watching trips, departing from either Provincetown or Barnstable or off-Cape in Plymouth. All will take you out to Stellwagen Bank, an 800 square mile federally protected marine sanctuary whose southern end lies just off the coast of Provincetown. The shape of this underwater plateau forces deep sea currents to rise to the surface, bringing nutrients with them. That makes the area a prime feeding ground for whales and other sea mammals during the summer months.
Provincetown is closest harbor to Stellwagen Bank so you'll spend less time sailing out to the whales and more time watching them if you sail from there. But driving all the way out to the tip of Cape Cod in busy summer traffic can be a frustrating experience so some visitors, particularly those who are staying in the mid Cape or upper Cape, choose to start their whale watching trips from Barnstable harbor instead.
Whichever harbor you leave from, though, you're almost certain to see plenty of whales. In fact, operators are so confident that they will be able to show you what you came to see that they offer to take visitors out again at no charge if they're unsuccessful. Boats are designed specifically to optimize viewing and each boat carries an on-board naturalist, so the trips are as educational as they are fun. The naturalists are always eager to answer questions and give explanations for some of the whales' antics, such as breaching, spyhopping or sounding.
The Whales you are most likely to see are finbacks, humpbacks and minkes, since these are the most common types found in these parts. Other types of whales that inhabit the waters around Cape Cod include sei whales and pilot whales. Northern Right whales also used to call this area home, but these are very rare nowadays, with scientists estimating that fewer than 300 remain in the Atlantic.
Whale watching trips typically last about four hours and leave several times a day – morning, afternoon and sunset (which is very romantic, by the way). Make sure you dress in layers so that you're ready for any type of weather. Even the hottest days on land can get quite chilly once you get out onto the ocean.
A windbreaker is a good idea, preferably a waterproof one, since you there is a pretty good chance you will get wet. A dry set of clothes left in the car is also a good idea. You'll also need to wear good shoes that have decent traction. Sneakers are definitely better than flip-flops. Sun block is a good idea, as is some kind of hat. Binoculars aren't really necessary since the whales come very close to the boat, but a camera is a must. (MD Jones)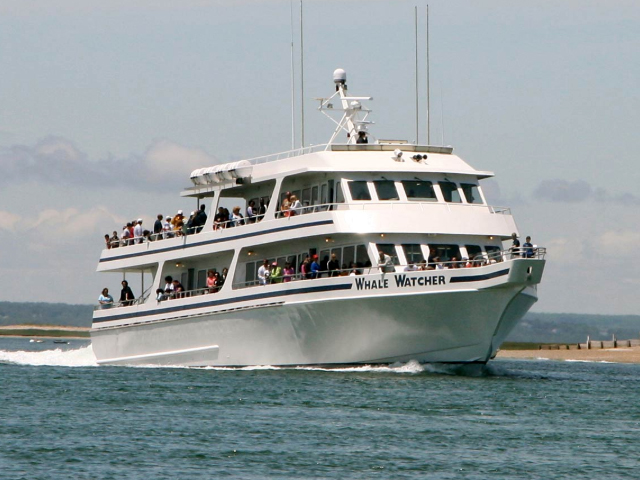 Hyannis Whale Watcher Cruises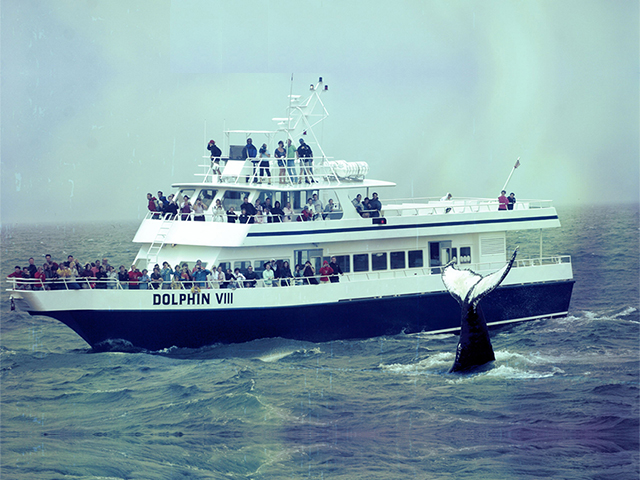 307 Commercial Street, #1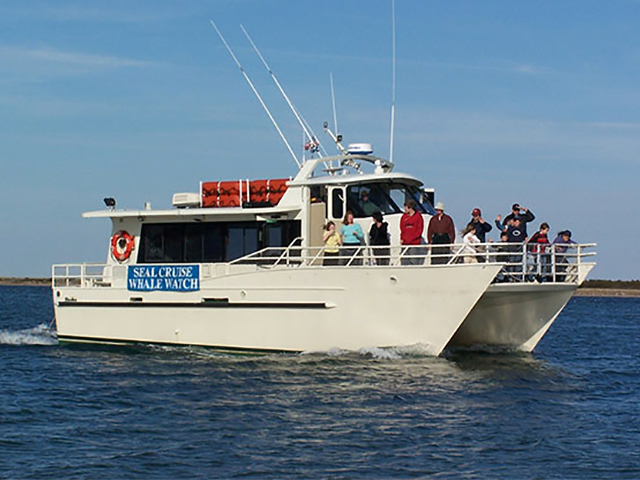 Whale Watching, Seal Watching,
Harbor Tours, Sunset Cruises
Cruises & Whale Watching On Cape Cod & The Islands By Region
Barnstable Harbor Eco Tours, LLC
243 Millway
Barnstable, MA
(508) 221-6126
Website
Cape Cod Cruises
Bay Spirit Tours
180 Ocean Street
Hyannis, MA
(508) 771-0107
Website
Cape Cod Cruises
Cape Rib Tours
790 Iyannough Road
Hyannis, MA
(508) 790-0662
Website
Cape Cod Cruises & Whale Watching
Hyannis Whale Watcher Cruises
269 Millway
Barnstable, MA
(508) 362-6088
Website
Cape Cod Cruises & Whale Watching
Beachcomber
174 Crowell Road
Chatham, MA
(508) 945-5265
Website
Cape Cod Cruises & Seal Watching
Blue Claw Boat Tours
235 Main Street
Orleans, MA
(508) 240-5783
Website
Cape Cod Cruises & Whale Watching
BlueWater Entetainment
436 Old Queen Anne Road
Chatham, MA
(508) 737-7915
Website
Cape Cod Cruises & Whale Watching
Freedom Cruise Line
731 Route 28
Harwich Port, MA
(508) 432-8999
Website
Cape Cod Cruises & Whale Watching
Monomoy Island Excursions
731 Route 28
Unit 1
Harwich Port, MA
(508) 430-7772
Website
Cape Cod Cruises & Seal Watching
Nauset Boat Tours
Town Cove
Orleans, MA
(508) 237-8244
Website
Cape Cod Cruises & Whale Watching
Outermost Harbor Marine
83 Seagull Road
Chatham, MA
(508) 945-2030
Website
Cape Cod Cruises & Seal Watching
Alpha Whale Watch
19 Ryder Street Ext.
Provincetown, MA
(508) 221-5920
Website
Cape Cod Cruises & Whale Watching
Beth Ann Charters
MacMillian Wharf
Provincetown, MA
(860) 716-0202
Website
Cape Cod Cruises & Whale Watching
Cape Cod Catamaran
255 Commercial Street
Wellfleet, MA
(508) 240-4879
Website
Cape Cod Cruises & Seal Watching
Dolphin Fleet Whale Watch
307 Commercial Street, #1
Provincetown, MA
(508) 240-3636
Website
Cape Cod Cruises & Whale Watching
Hook Charters
206 Commercial Street
Provincetown, MA
(508) 681-9490
Website
Cape Cod Cruises & Whale Watching
Provincetown Whale Watching
MacMillan Pier
Provincetown, MA
(508) 746-2643
Website
Cape Cod Cruises & Whale Watching
SeaSalt Charters
McMillian Pier
Provincetown, MA
(508) 444-2732
Website
Cape Cod Cruises & Whale Watching
Shearwater Excursions
Town Pier
34 Washington Street
Nantucket, MA
(508) 228-7037
Website
Cape Cod Cruises & Whale Watching